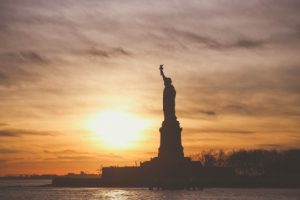 Recently, I took a short trip to New York City – an action packed long weekend arranged through Bay World Travel's relationship with New York City Vacation Packages. My friend Joanne came up from New Jersey, and 1 day into the trip I was surprised by two other friends who decided to join us for the weekend.
While I've gone to school in New York, worked in New York, and visited for business reasons through the year, I've never been a tourist in New York. I know New York is an amazing city but seeing it through visitor's eyes provided a new perspective. Here are my top 5 reasons to make New York City a girlfriends' getaway.
1. Convenience. I live in California so traveling across the US for a long weekend might seem to be a bit much. But honestly, flights are convenient, frequent and affordable. Plus no passport is required, and you'll land in New York quicker than driving between northern and southern California. There are nonstop flights from the West Coast into New York's two biggest airports – JFK and Newark – and lots of connecting flights into La Guardia and White Plains as well.