Making Our Way Through the Chilean Fjords 2022 Style
On Board Silversea's Silver Moon
Anyone who has ventured out of their home country in the last 2 years can attest to the need for flexibility and openness to change.  Bill and I are no exceptions – our trip through the Chilean fjords in January was our 2nd venture out of the USA since COVID-19 made its presence known.
While this trip presented some logistical challenges, it rewarded us with spectacular sea life, scenery, and a pampered lifestyle.  Our original 3-week itinerary was scheduled to begin in Lima, Peru and disembark in Buenos Aires.  Due to closures of Peru and Argentina to cruise ships, however, our trip began in Guayaquil, Ecuador and ended in Montevideo, Uruguay.   Travel tip #1:  book your air with the cruise line – Silversea rebooked us with no hassles and no extra fees.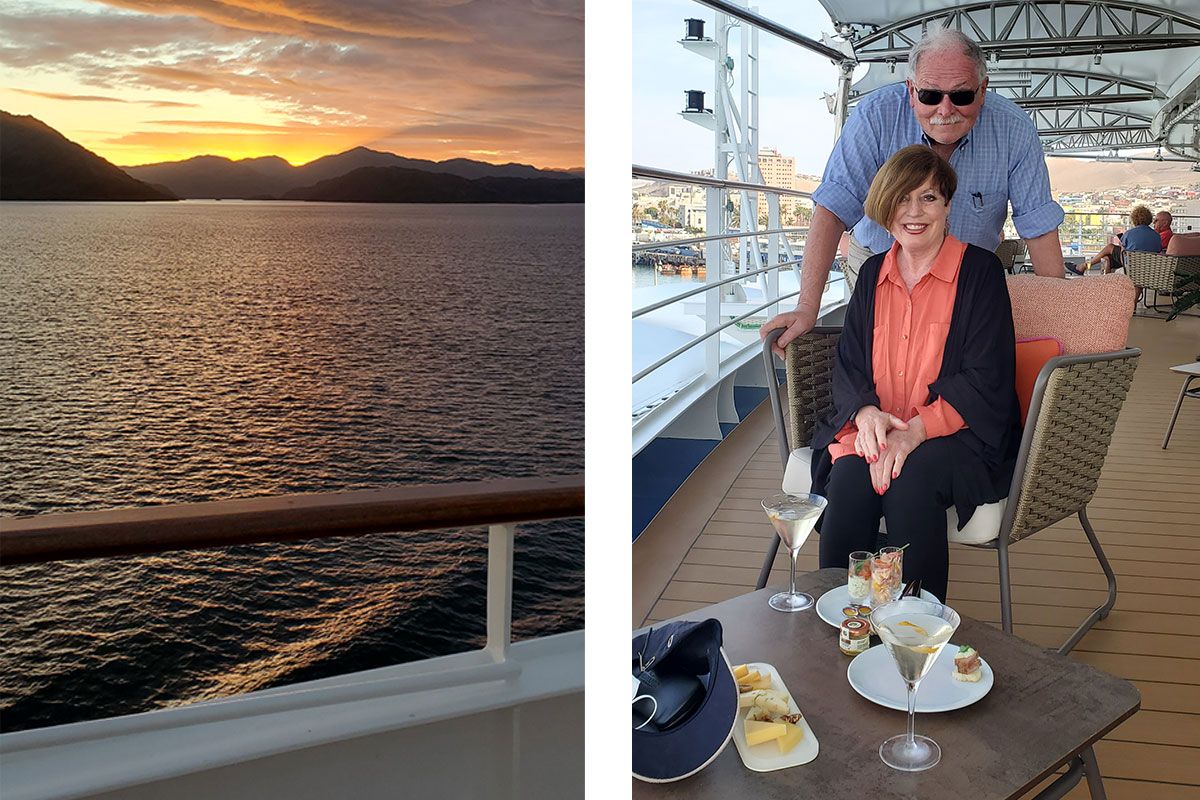 We were amazed with the abundance of sea life along the Humboldt Current and through the Strait of Magellan – spotting pods of whales, Peale's dolphins that looked like mini-orcas,  and albatross dipping in front of the ship.  And we were treated to the magnificent Chilean fjords in an almost spookily empty landscape.  This is a passage you must do by sea as there are no roads or settlements for much of this jagged array of islands that makes up the southern tip of South America.
And talk about being pampered.  With just 125 passengers on board and a full complement of almost 400 crew, we were taken care of!  Vinay, our butler, set up breakfast for us every morning in the Observation Library so that we could enjoy the vast expanse of the South Pacific, the Strait of Magellan and the Atlantic.  Reservations for the amazing restaurants were easy to come by.
Speaking of food, our favorite spot for dining was the SALT Kitchen.  Unique to the Silver Moon and Silver Dawn, this Sea and Land Taste features the local cuisine of the ship's position.  On our cruise, 4 different menus were rotated – Ecuador/Peru, Chile, Argentina, and Uruguay.   And Bill and I enjoyed the SALT cooking classes and chef demonstrations.  Chef Eva, an alum of America's Test Kitchen, made it easy to prepare delicious dishes and shared history and background of local cuisines and foods.    Thanks to Chef Eva,  we've now prepared  South American dishes for our family and friends!  Travel tip #2: For an uncrowded adventure, don't wait to book a cruise because occupancy is steadily rising.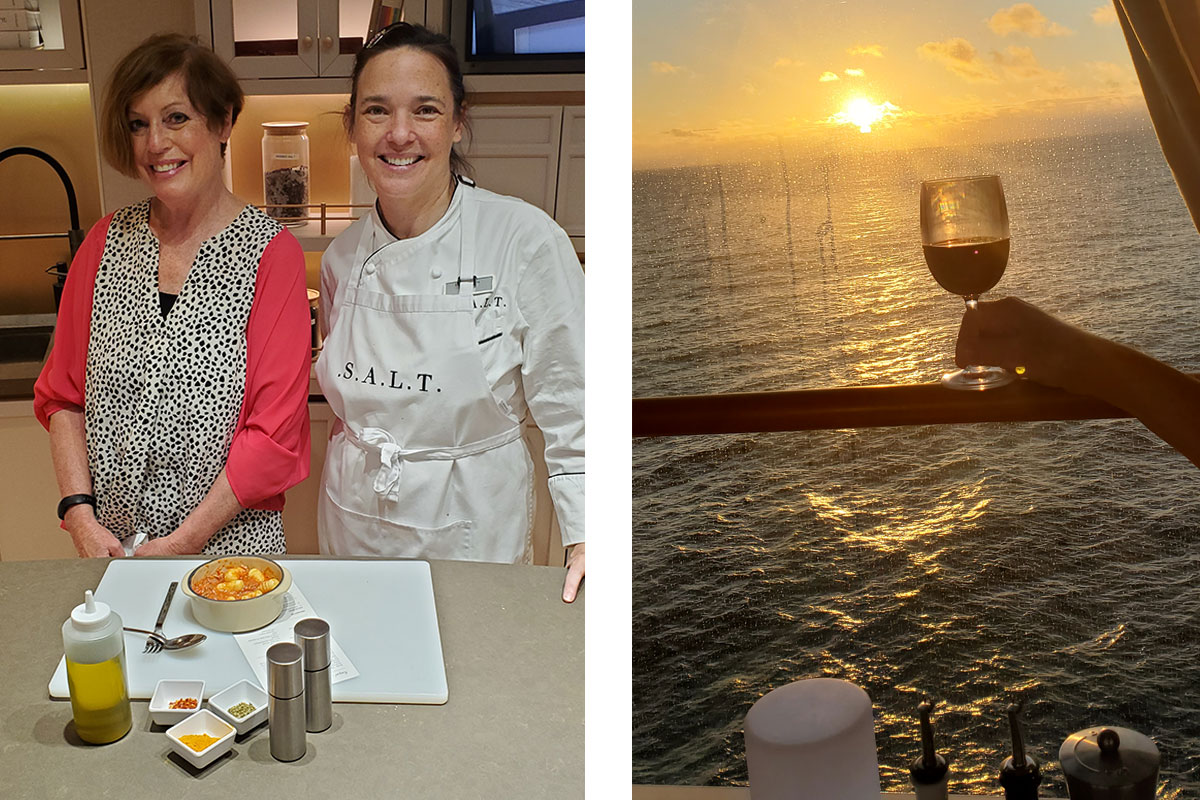 Be prepared to fill out lots of government forms and produce lots of documentation.  Each country had specific requirements. Again, Silversea made compliance very easy – testing was done on board either by crew or medical professionals from the local country.   With free wifi, crew assistance, and lots of leisure time, we were able to complete the forms which ranged from simple to ridiculously complex.  Tip #3:  Be aware and make sure to complete pre-boarding conditions and test requirements and get ready to have lots of swabbing done!  And build enough flexibility into your schedule just in case of a need to quarantine due to positive COVID-19 test results or other medical issues.  We advise all our clients that travel medical insurance is a necessity not an option for these days.  Travel Insured has a great low cost add on to cover accommodations in the case of quarantine.
That leads me to Tip #4:  Work with a travel professional – there are so many more details to attend to than in past years, and your travel advisor has the expertise to make sure you can get to your destination and back!   Need to locate a travel professional?  Check us out at bayworldtravel.com or contact us at go@bayworldtravel.com