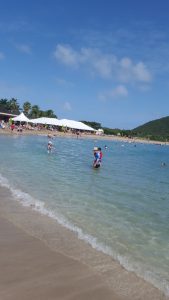 After an amazing sail along the Dalmatian Coast in September, Bill and I signed up to re-board the Royal Clipper in the winter during her time in the Caribbean.  We've bare boated in the past, but what fun to have Star Clippers take care of us as we sailed to some of the most remote islands in the Windward Islands – including the lightly populated nature preserve-dominated Dominica.
We were fortunate to have our own Half Moon Bay yoga instructor on board with us – Anna Enea – who offered morning and evening yoga classes.  As if we weren't relaxed enough by being pampered with European cuisine and tropical drinks, Anna also offered a meditation class.   We had a special surprise bonus on this sailing with a cardio-funk/hip hop dance instructor on board as well.  Ben's classes were fun and a bit challenging as we tried to roll and move at the same time the Royal Clipper did.   I'm sure we were a comical sight.
I met so many people who were on their 8th or 9th cruise with Star Clippers, and many stayed aboard for 14 days – either starting in the Grenadines, or going on to the Leeward Islands following our sailing.  A couple people re-upped for the next week while we were on board.   What all of us repeaters share is a love affair with the dramatic sail aways and the friendly relaxed atmosphere among guests and crew.  These are true sailing ships.  Our journey through the Windward Islands took us over 800 nautical miles and into small harbors the big cruise ships can't get to.   Sleepy Isle des Saintes, for example, is off the coast of Guadeloupe and other than a few ferries and some gorgeous yachts in the harbor,  we had the island to ourselves.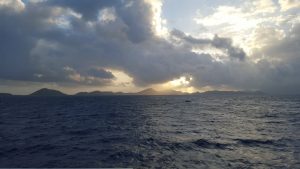 One of my favorite islands on this itinerary is Antigua – home to gorgeous white sand beaches, fantastic luxury resorts, and, yes, some great rums.  The Caribbean Islands are fiercely proud of their island-made rums, and we were able to sample Dynamite from Dominica, English Harbour from Antigua, and Damoiseau from Guadeloupe.   The African/French/English/Dutch influences in this part of the world have created beautiful foods, people, and music.   As is traditional on the Star Clippers, one evening is devoted to local entertainment.  We enjoyed a wonderful steel drum band in Antigua, and while it delayed the sail away till well after midnight, it was worth staying up for!
Bay World Travel will be back on Star Clippers in the fall in the Mediterranean and plans are underway for what promises to be the sailing adventure of a lifetime – the transatlantic crossing of the Royal Clipper in the fall of 2017.   Meantime, don't hesitate to call if you'd like to consider a real sailing experience in the Caribbean, Asia or Mediterranean.   See you on board!