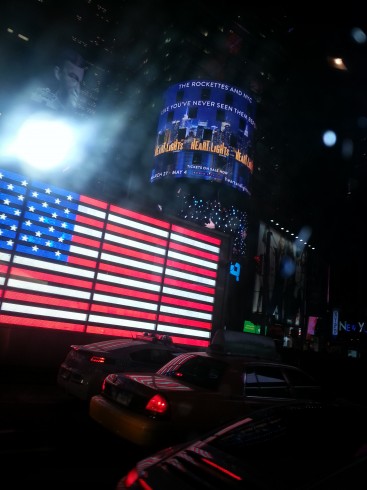 It takes me a day to get my New York City "sea legs" – but then, it's a total adrenaline rush! Times Square has become brighter than ever, people are crowding the streets 24/7, horns are honking, and vendors sell a dizzying array of food and merchandise on the sidewalks and streets.
I just returned from an exhilarating 5 days and 4 nights in New York. My reason for going was to sing with a group of over 200 choristers in a Lincoln Center performance of Carmina Burana. My itinerary included hours of grueling rehearsals followed by performing this powerful music to a packed house at Avery Fisher Hall in Lincoln Center. I'm sure the people who bought tickets were more attracted by the Grammy-winning conductor Vance George and Metropolitan Opera baritone Keith Harris than by the chorus which was recruited from around the world but it was an incredible experience nonetheless.
But I was in New York and decided to renew my acquaintance with a former hometown of mine and one of my favorite cities. Highlights included:
A trip to the fast-paced Chelsea/West Village neighborhood. With New York Google headquarters on 8th Avenue and 15th, this area has become even more hip. While my March visit was still cool, I had to take the opportunity to see the High Line – a one mile greenway built on the site of the old elevated New York Central Railroad. The High Line affords beautiful views of the Hudson and volunteers were out in force readying the space for spring planting. My son Michael and our friend Jennie, an actor in New York, enjoyed a wonderful lunch at the Standard Grill just under the High Line. Speaking of hip, there's a nightclub and private lounge at the top of the Standard Hotel. My friend Joanne and I went up for a cocktail at the nightclub (which is open to the public), and were blown away by the awesome night skyline across the Hudson.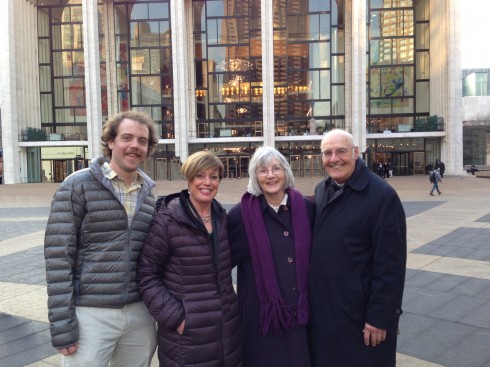 Of course, I had to revisit some of my favorite areas in New York – 5th Avenue for shopping, Times Square and the theater district for the Broadway lights and shows. Since I had a packed rehearsal schedule, I was able to see just one show – the pre-opening matineee performance of Mothers and Sons starring Tony award-winning Tyne Daly in a tight ensemble play about a mother finally coming to terms with the death of her gay son from AIDs in the 1990's. It was a riveting performance and is already gaining critical praise. The array of performances available for New Yorkers and visitors is head-spinning – you can see theater, dance and music any day of the week. When I lived in New York in the 70's, I worked with a woman who went to a ballet performance every day of the year. Today the options are even more overwhelming. My recommendation is to plan in advance of your visit what you'd like to see and do. I really wanted to get to the Gauguin exhibit at the Museum of Modern Art but I would have enjoyed a full day and time was not on my side this visit!
And I adore Central Park and the Lincoln Center area. I stayed at the New York Sheraton to be close to our rehearsal space. It is a fantastic location – less than a block from the closest Broadway theater and just a few blocks from Central Park and Lincoln Center. The weather was a little brisk but honestly I enjoy this time of year – it's not high season so while it's always crowded in New York, the plentiful supply of hotel space provides some fantastic deals this time of year, and it's easier to get into the hot restaurants and shows.
I'm a foodie too, so a highlight for me is always about the food! My friend Jane and I enjoyed a wonderful meal just a block from the hotel at the Redeye Grill, and Joanne and I went to Malaparte, a tiny West Village restaurant that features simple and beautifully prepared food from the Emilia Romagna region on the Italian Adriatic coast. I know it sounds odd, but we split a pounded breaded pork chop topped with arugula which tasted like heaven on a (large) plate! By the way, you don't have to spend big bucks to enjoy great cuisine in New York. Our dinner bill at Malaparte was under $40/person, and one of my favorite meals was takeout from the Halal Guys on the street corner across from the hotel. $6 bought a huge portion of a mixed grill of chicken and gyro over a bed of rice, lettuce, with pita and a wonderful sauce. The guys rightfully advised me to use the spicy sauce sparingly. This fed both my son Michael and me for dinner with leftovers!
Interested in a New York getaway? I'd be happy to put together a great itinerary for whatever your style of travel is – from luxury/culture to budget/highlights of Manhattan. There is so much to see and do in this city don't do it all in one trip. For example, you might want to do one trip focused on Ellis Island, lower Manhattan, the World Trade Center memorial, another in midtown/Broadway, and another on either the East side (Metropolitan Museum of Art, Central Park, shopping!) or West side (Lincoln Center, Central Park). Nonstop inexpensive flights are plentiful from the West Coast to the East Coast too! You can reach me or any one of our travel advisors at go@bayworldtravel.com or 650-726-7345.