To Fly Or Not To Fly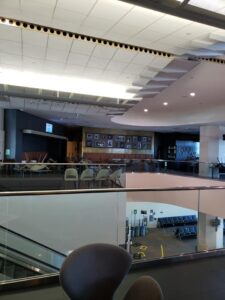 When the pandemic started, most people cancelled their travel plans and did not want to travel by plane.  As summer approached, Paul and I were trying to decide if we would make our annual summer trip to Bay View, Michigan, I have never missed a summer there in my life.  And when the airlines came out with the policy of waiving penalties for any changes, we thought, what the heck, we will plan and see what happens next.  Fast forward to July, with our travel dates approaching and the worsening of the pandemic, we were questioned by friends and family, are you really going to fly?   I had been following the industry announcements and webinars with great interest and was confident that if the proper protocols were in place, we would be safe flying.  So, on July 17th, we boarded our flight to Chicago armed with masks, face shields, wipes, and hand sanitizer.
I was first struck by how empty SFO was at 9 am on a Friday morning in summer.  Our flight to Chicago was scheduled out of the international terminal, as they were consolidating ground operations for morning domestic flights.  The only 2 places open post-security for food or coffee were Tomokazu and Joe and the Juice – the other 4 were closed.   And there were so many planes parked away from the terminals – grounded.  Although we were flying business class (deeply discounted upgrade), we boarded last as all boarding was done starting from the back. People were called by row and social distancing was maintained during the boarding process.   We were greeted on board with small packets of hand sanitizer by the flight crew who were all masked.  And every passenger was masked as well.  The plane had been thoroughly sanitized prior to our boarding.  The aircraft was 2/3 filled – with every seat in business class taken.  We changed planes in Chicago – which also was deserted, with less than  10% of the food areas opened.  And the ones that were open, closed at 6 pm.   The terminal looked deserted at 6 pm on Friday night.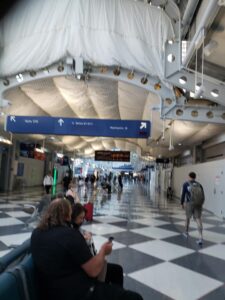 Five weeks later on our return August 24th, the number of people travelling had noticeably increased – Chicago O'Hare was almost bustling and the eating places open were much busier.  But everywhere we went, we saw that the mask requirements were adhered to.  And when we arrived home to SFO – baggage claim almost looked like people were starting to travel again.
Here is what the IATA (International Air Traffic Association) has to say about the safety of air travel today.
What you should know if you have or need to travel by air during the COVID-19 pandemic
While the risk of catching an infection on an aircraft is typically lower than in a shopping center or an office environment, there are simple measures you can take to further reduce the risk when traveling: wear a mask, clean your hands regularly and check-in online to minimize contact at the airport.
And important to know: nearly all planes today have very sophisticated air filters which catch 99.99% of particles, including viruses like COVID-19. The cabin air is also replaced with new fresh air from outside every two to three minutes. This means that what you breathe onboard is the same quality as in an operating room at a hospital.
Put it all together and flying remains one of the safest travel alternatives even during COVID-19.
Finally, you must not travel when you are ill. Should you experience symptoms during or after a trip, seek medical attention. Most governments also provide clear instructions.