The Zen of An Ocean Crossing
Mary & Bill Cross the Atlantic on the Royal Clipper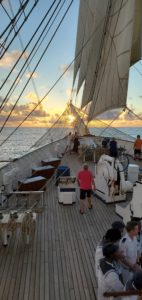 Working in the travel business I meet people with 2 divergent opinions of cruising –
Opinion 1:  I want to enjoy the port experience.  Cruising is a convenient way to get from port to port.  Yes, the cruise ship and its amenities are important but the immersive port experience is what drives the choice of cruises.
Opinion 2:  I want to enjoy the ship.  In fact, I don't care if I ever get off the ship.  I love the casinos, the onboard entertainment, lectures, and the food and drink.   I love hanging out in the lounges, restaurants, library, and coffee shop – hanging out with new friends I meet onboard.
It turns out that there is a third opinion – enjoying the experience of being on the  ocean – the salt air, occasional storms, and watching the waves in an immense ocean.  Throw in the opportunity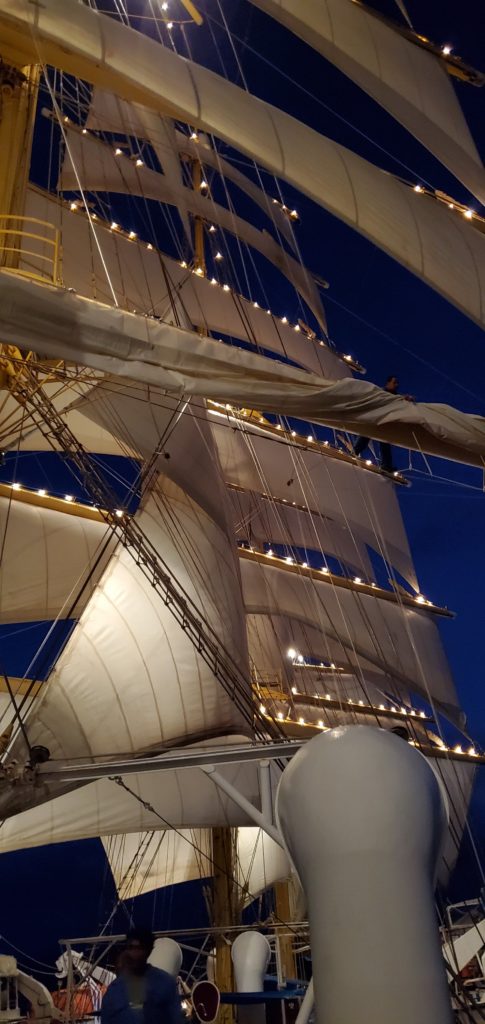 to cross the ocean under full sail in a tall sailing ship and that was what drew my husband Bill to our recent ocean crossing on Star Clippers' majestic 5-masted sailing ship,  Royal Clipper.
I admit I went into this experience with mixed feelings.  We crossed from Lisbon, Portugal to Bridgetown, Barbados – 3,539 nautical miles in 16 days.  Other than port stops in Portimao, Portugal, Safi, Morocco, and Tenerife, Canary Islands, the rest of this journey was at sea.  I loaded up my Kindle with books and first day on board checked several books out of the ship library.  I mean – it's a long trip with nothing to do but read, right?
Wrong!  While the ship itself with its full-time sailmaker,  55,000 square feet of sails, 100 crewmembers, and briefings from the captain and crew on the joy and science of sailing offered countless hours of entertainment,  I was immediately drawn to the star attraction – the Atlantic Ocean.
Mid-Atlantic, frankly, there is nothing to look at but endless waves and sky and clouds.  The 200 passengers on board had  a glorious but brief sighting of a sailing yacht participating in the Brest Atlantiques race.   The rest of the time we occasionally saw dolphins, birds and flying fish as we got closer to Barbados – but mainly lots and lots of ocean.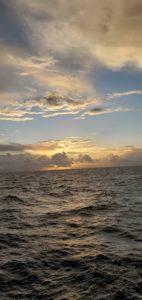 Most days I tucked away in an alcove – with my Kindle and perhaps a cup of tea (okay, one day I ordered a Negroni from the bar) to keep me company.   I finished a couple books but that was a pretty pathetic result if reading books was my goal.  I just couldn't keep my eyes off the waves, the sky and the enormous expanse of water.  And every morning presented the opportunity to see a gorgeous sunrise or a slate gray sky.  And every evening at 5 PM, Captain Sergey convened passengers to the bridge to sing the Salve Regina, a Gregorian chant sung by sailors in the Christopher Columbus era.  This haunting ritual (back in those days, sailors were never sure they would see the following sunrise) was conducted with the backdrop of the majestic Royal Clipper sails, bow, and the magnificent sunset as we steadily moved south and west toward Barbados.
To enhance this zen of an ocean crossing, where  I lived in each and every moment, was a morning yoga session offered by Anita, a gracious passenger who provided a lovely start to each day with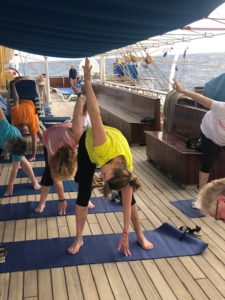 gentle yoga on the sun deck.  I would arrive 30 minutes before the start of yoga to sip my tea and look at the ocean (yes, still there every morning!).
By day 10, the ship had really become home – we met amazing fellow passengers and deepened relationships that grew into friendships.  As you can imagine, we were kindred spirits aboard – most have a keen interest in sailing but the ocean crossing was a particular draw. Several people we met do this trip annually.  And it's a global microcosm – we met people from Germany, France, Sweden,  Canada, Australia, and the U.S.  The daily ritual of fabulous meals (6, count them 6, opportunities every day to enjoy anything from a continental breakfast to a 6 course sit down dinner in the dining room) was a comforting and delicious routine.   The agenda for the following day was always in our cabin by early evening. Bill and I would review the next day's offerings in the quiet of our cabin – which might include knot tying,  celestial navigation classes, the Captain's tales of tall ship experiences, theme evening in the tropical bar, or star gazing.    Bill liked the classes – I preferred living in the moment, starting the day with tea and yoga, meeting Bill for the meals, and tucking away in my alcove to watch the ocean.  Ahhh -yes, I will do it again!
Interested in crossing the ocean under sail or power? There are many options as most of the cruise lines schedules take them across one of the oceans as they reposition- or some, like Cunard, have regular ocean crossings.   Let us know if you'd like to learn more!
Mary Corcoran
Travel Advisor
Bay World Travel