The 3 C's of Southeast Asia: Culinary, Culture and Crafts
I recently had the privilege of traveling to Thailand and Laos with Kay Tran, founder of V'Explore Tours and expert in Southeast Asia destinations, on a small group tour.  Our group was also hosted by the Tourism Authority of Thailand.   With an emphasis on visiting emerging destinations, this was a very special opportunity to see things few Americans do through the eyes of locals.
What an experience!  This tour immersed our group in food, culture and customs, and even hands on crafting.   Our 11-day exotic adventure took us from Bangkok to the northeast Thailand cities of Sakon Nakhon and Nakhon Phanom – from whence we traveled into small villages; then over the Friendship Bridge 2 to Savannakhet, Laos and on to its capital city of Vientiane and finally to the UNESCO World Heritage site of Luang Prabang.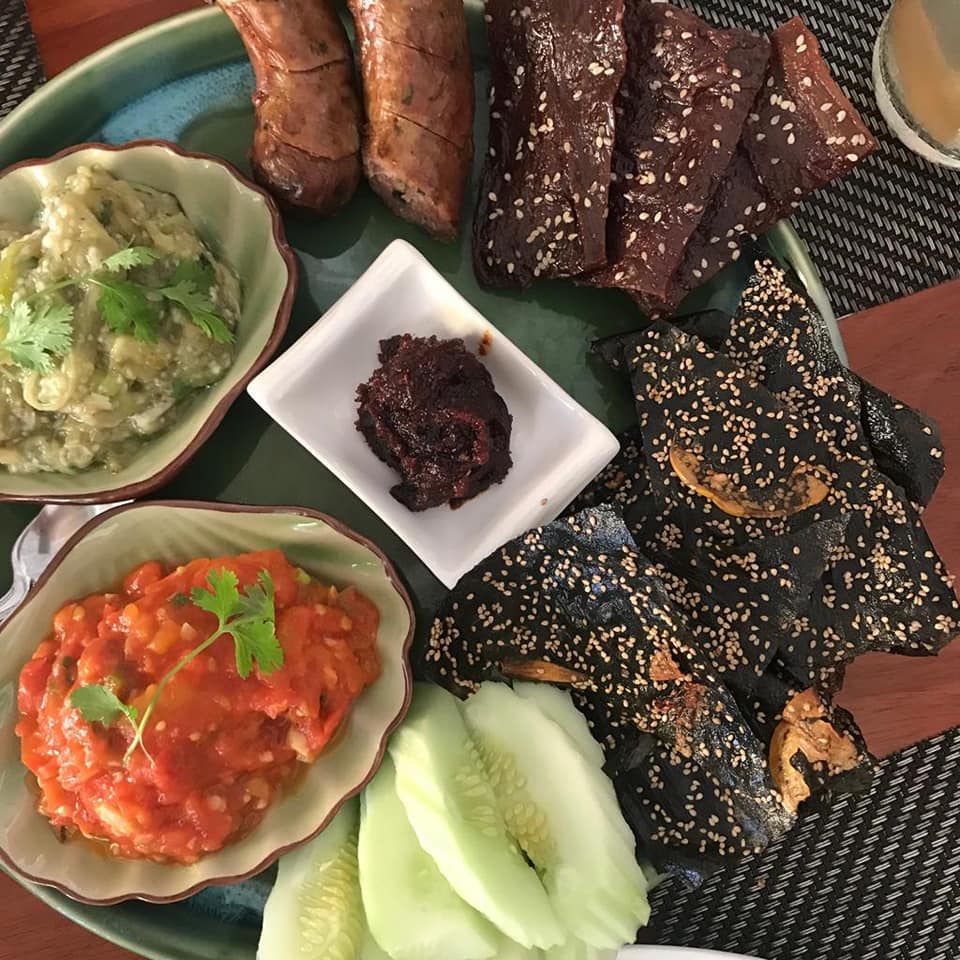 Culinary
Food is central to the Thai way of life.  Every day, we ate exotic tropical fruit – either displayed beautifully in our hotel room, picked up at local markets, or as the ubiquitous end to our delicious meals.  And we sampled a vast array of food – my favorite being the soups (ranging from very spicy curries to a phenomenal black chicken soup with a light and flavorful broth) and chicken or fish wrapped in banana leaf.  In the small village of Baan Nhon Hom, we participated in a cooking class (and competition) – learning how to make green papaya salad,   grilled beef (we picked up the famous local beef at market) with spicy sauce, soup with pork ribs, and a grilled fish chili paste (perfect for dipping).
Every meal was an embarrassment of riches – so much food and so little capacity for eating it all! But we sampled everything (and those with special dietary requirements were graciously offered alternatives).  In Laos, the food was milder and more subtle in flavor – with the French influence thanks to this country's history as once a part of French Indochina.  We especially loved the Mekong seaweed – sometimes chewy and sometimes crispy.  In Luang Prabang we had the opportunity to share dessert at Paste, the Laotian outpost of the famous Bangkok Michelin starred restaurant.  My dessert, the coconut noodles, was one I'll crave and sadly be unable to re-create.  It's a great reason to return to this part of the world.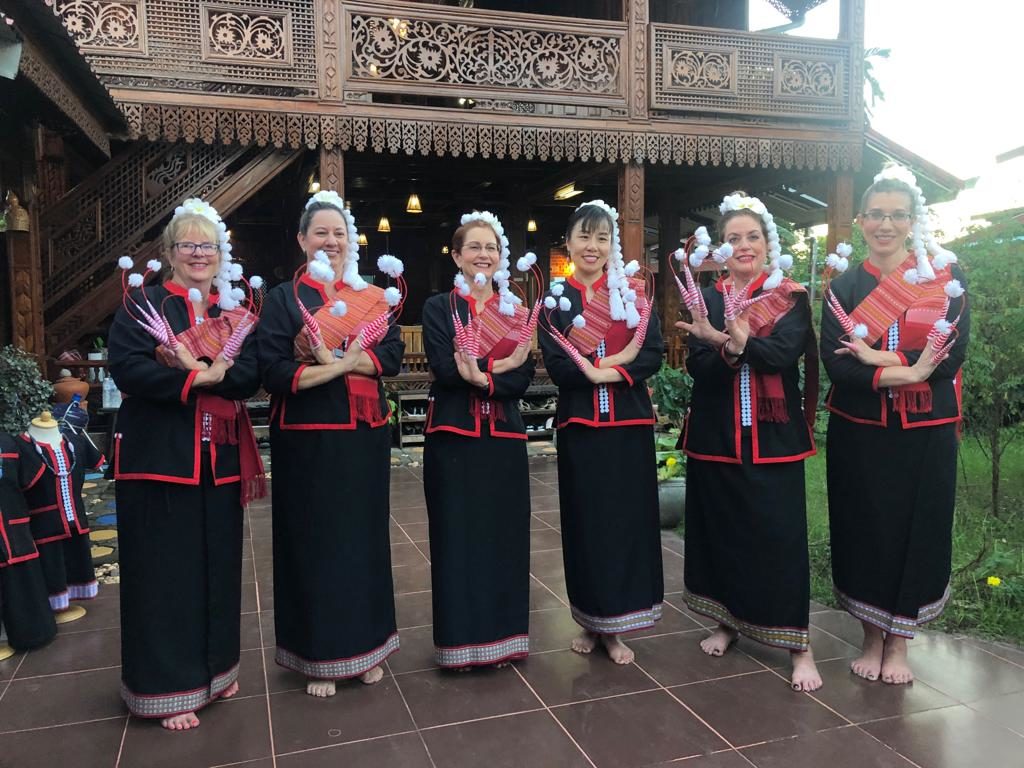 Culture 
We jumped in feet first!  We learned about meditation, health and wellness  in a beautiful yoga/meditation retreat setting,  dressed in local costume and learned a traditional Isaan dance, visited temples and had an opportunity to learn more about the Buddhist way of life with a learned monk in a forest temple.  And in the UNESCO World Heritage town of Louang Prabang in Laos, we participated in the pre-dawn almsgiving of sticky rice to the almost 1000 monks who live there (serving the 30 temples).  We processed around the Phra That Phanom temple 3 times holding a long cloth,  honoring the sacred site where reportedly Buddha's breast bone is house. We participated in a feast with the local villagers in Baan Nhon Hom,  and shared stories and their traditions.  Our tour guides, in particular our guide  Nemo who accompanied us for an entire week in Thailand, taught us so much about the local customs and culture.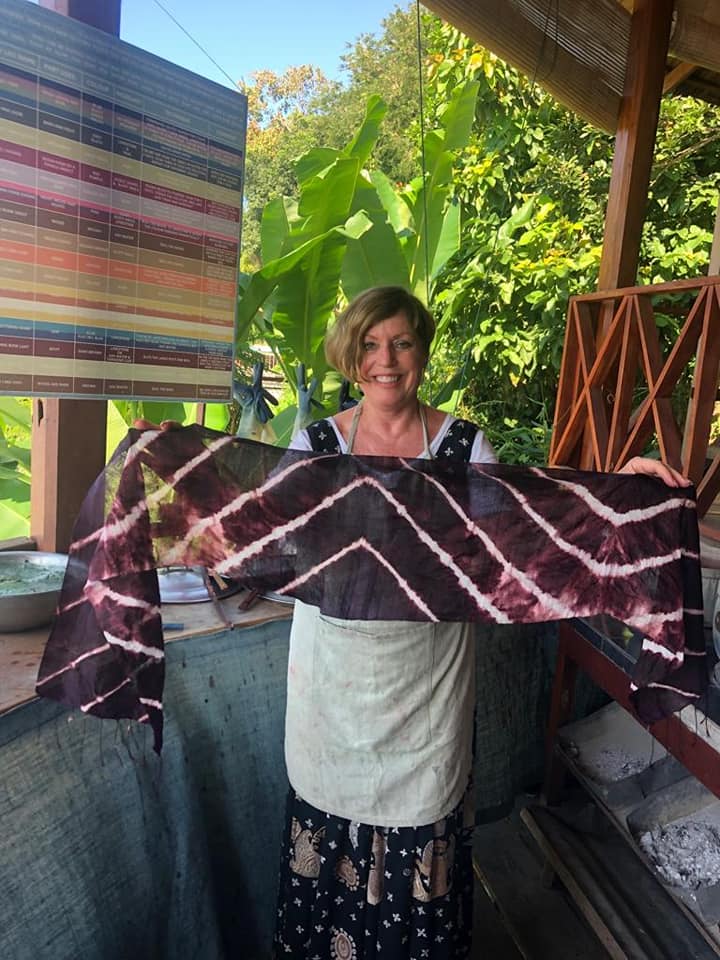 Crafting 
Anyone who knows me knows that I have zero talent in arts and crafts (even in first grade, I was relegated to a remedial art class).  But the enthusiasm of my fellow travelers (6 of us in the tour group), our guides, and talented teachers galvanized me into action.  I designed a krathong, a flower-bedecked, candle-lit cross-section of a banana tree trunk  to float down the river in Baan Dvara Prateep.  I hacked out a section of indigo plants, helped make indigo dye, and dyed and tie-dyed a scarf in Baan Nongsan.  I dyed a silk scarf at the Ock Pop Tok craft studio in Luang Prabang.  Ok, so I had a lot of help along the way.  Seeing the process from silkworm to finished product, visiting the beautiful weaving studio of Carol Cassidy, and watching Thai and Laotian women proudly weaving and selling their products gave me a new appreciation for hand crafts.
If you're interested even in just one of the three C's of Southeast Asia – culinary, culture or crafts – the trip will be life-transforming, awe-inspiring, and a lot of fun.    V'Explore Tours will customize to your preferences, and you'll love every minute of the experience!  There are also scheduled tours and options for fabulous Mekong River cruises or sailing through the beautiful islands of Thailand.  Contact me at mary@bayworldtravel.com and let's start designing the perfect experience for you!