New Zealand & Australia Cruise November 2018
Join Tom Joines and explore the world with Holland America Line Cruise in classic style to New Zealand and Australia in the comfort of a well-appointed, mid-sized ship. Encounter fascinating lands and cultures. And make lasting memories on a Holland America Line cruise.
We were born to voyage. For nearly 145 years, Holland America Line Cruise has been introducing guests to new places and new cultures, and we've witnessed firsthand the transformative power of travel. We've seen how it opens minds, builds connections and fosters an appreciation of the shared humanity that unites us the world over. We invite you to join us for an unforgettable experience. Because travel is more than an itinerary, it has the power to change us and our world, journey by journey. This is why we sail.
Join this sailing November 8-22, 2018 in a balcony stateroom for only $2,399 per person!*
Highlights from this special sailing include:
Tauranga (Rotorua), New Zealand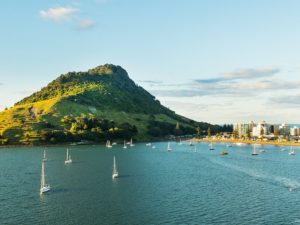 The curved shoreline of the Bay of Plenty—known in Maori as Te Moana-a-Toi—is home to incredible surfing, white-sand beaches and New Zealand's only active marine volcano. Tauranga, with 130,000 residents, is the largest city on the Bay of Plenty and fifth largest in New Zealand. The city offers visitors a number of water-focused activities, like sailing and kayaking, as well as drier alternatives such as shopping and people-watching at a café in the Historic Village.
Tauranga is also a great jumping-off point for exploring nearby beaches and Te Puke, the kiwifruit capital of the world, as well as a wealth of Maori cultural sites. The world-famous geothermal wonderland of Rotorua, nicknamed Sulfur City, has been a major Polynesian spa resort town since visitors first arrived in the late 1800s. In Maori, roto means lake and rua means two, but Rotorua actually comprises 18 lakes—plus an incredible redwood forest.
For the best views, take the gondola up to Skyline Rotorua, a recreation complex atop Mount Ngongotaha. Other day trips you should consider are a boat ride through the incomparable glowworm caves of Waitomo or an unforgettable tour of the Hobbiton Movie Set in Matamata—a must for all Tolkien fans.
Milford Sound, New Zealand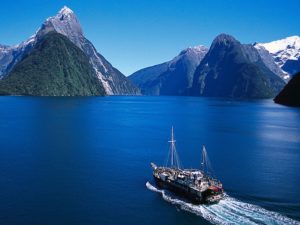 Milford Sound, or Piopiotahi (its name in Maori), sits on the west coast of New Zealand's South Island and was first called the Eighth Wonder of the World by none other than Rudyard Kipling, who had seen some pretty wonderful places. As you sail up the 15-kilometer-long (nine-mile-long) sound, with soaring snow-topped peaks looming above—the tallest reaches an altitude of 1,517 meters (4,977 feet)—you'll understand Kipling's enthusiasm.
Although it is called a sound, it is technically a fjord—a narrow inlet created by glacial erosion over thousands of years. While its geological history is long, its human history is not. It is believed that the Maori first explored the sound, and the rest of the area that is now part of Fiordland National Park, around 1,000 years ago; Captain Cook followed in 1770. But neither Maori nor Europeans created permanent settlements of any significance, and the land was pristine when Fiordland National Park, New Zealand's largest national park, was established in 1952. While many walking trails cross the park, the most breathtaking views are arguably those from the water, with the sheer rock faces looming above your ship as you sail through this majestic landscape.
Hobart, Tasmania, Australia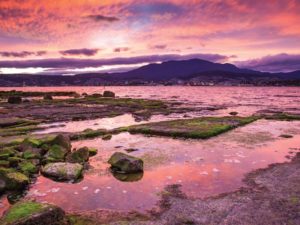 Tasmania, once the butt of many jokes, is finally cool. The little Australian island is home to stunning landscapes, old-growth forests and exceptional local produce. Lording over all this goodness is Hobart, the island's creative capital. Although its remoteness might once have made it feel provincial, the city has truly come into its own in recent years. It's got one of the world's best museums of contemporary art, vibrant markets, a cosmopolitan dining scene and eclectic music festivals. It's also achingly beautiful, with a natural harbor setting and rugged Mount Wellington looming in the background.
The city is compact enough to easily explore on foot. Start at the sandstone area of Salamanca Place with its hip galleries, artist studios and bustling cafés and bars, and then roam the quaint streets of Battery Point, one of Hobart's oldest neighborhoods. Immerse yourself in nature at the gorgeous Botanical Gardens or head out of town to learn more about Tasmania's dark—but fascinating—past. Fuel up on the freshest seafood straight from the Southern Ocean down at the waterfront, or feast on gourmet Tassie produce at one of the many excellent restaurants in town. Whatever you choose to do, we promise you won't be bored.
Sydney, Australia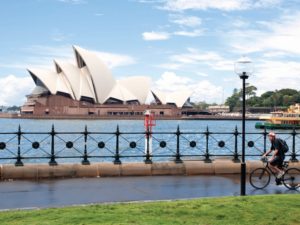 If you want a snapshot of Australia's appeal, look no further than Sydney: The idyllic lifestyle, friendly locals and drop-dead natural beauty of this approachable metropolis and its attractions explain why the country tops so many travelers' wish lists. But Sydney is more than just the embodiment of classic antipodean cool—the city is in a constant state of evolution. A list of what to do in Sydney might start with the white-hot nightlife, with its new cocktail bars and idiosyncratic mixology dens. Inventive restaurants helmed by high-caliber chefs are dishing up everything from posh pan-Asian to Argentine street food, while the famous dining temples that put Sydney on the gastronomic map are still going strong too.
The famed harbor is among the top sights—home to twin icons the Sydney Opera House and the Sydney Harbour Bridge, it is the stepping-off point for some of the city's best cultural attractions and sightseeing. In one day you can sail around the harbor, get a behind-the-scenes tour of the opera house and climb the bridge, with time to spare for people-watching over a flat white at a waterfront café.
Speaking of water, when you plan what to do in Sydney, you will want to include the iconic beaches, where surfers, office workers and tourists alike converge on some of the most gorgeous shoreline scenery anywhere. Bondi, Bronte and Clovelly are all within easy reach of the Central Business District, as is Manly, a charming seaside town located a short ferry ride from Circular Quay. Beyond the city you'll discover UNESCO World Heritage Sites and the chance to encounter Australia's cuddliest wildlife—a perfect way to round out your envy-inducing Sydney photo collection.
Inclusions
14 nights aboard the wonderful ms Noordam!
Exclusions
Price does not include: items of a personal nature, international airfare, travel insurance, airport transfers, tips to drivers/guides/host, optional excursions, phone calls, etc.
Airfare
Need help finding the best flight schedule and price? Give us a call today at (650)726-7345 or email us
Insurance
Bay World Travel always recommends protecting your travel investment with travel insurance. Give us a call if you would like to receive a travel insurance quote or check out Travel Insured International to compare policies or get a quote.
Additional Notes & Disclaimers
All rates are in US dollars per person, based on double occupancy, and do not include airfare, port charges or gratuities.