4 Perfect Days in London
Just a Few Days to Add Pre or Post? Pick a Great City and Go for It!
I joined two friends on a Norway-bound Celebrity ship out of Southampton this spring. It was a gorgeous cruise but only 7 days so why not take advantage of the long flight and enjoy a few extra days? This go-round, we selected one of my favorite cities in the world – London!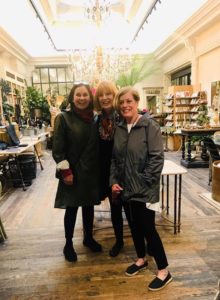 It does not matter how many times you visit this iconic city, there is always something new. And in London, the old never gets old. Here, a few highlights from our 4 days:
Day 1. The best advice after a long flight from the US is to stay awake till the sun sets! We settled in to our accommodations in Fitzrovia and walked to the corner pub for a light lunch and to explore the neighborhood. I highly recommend boutique hotels or apartments in one of London's many neighborhoods. Shopping, restaurants, pubs, and museums abound whether you're in Fitzrovia, Mayfair, Knightsbridge – or many other fabulous areas of this colorful city. And when you have just a few days, make sure to have a "must-do" list. For us, a must-do was fish & chips which we enjoyed at the Golden Hind – a mile walk down the road followed by a quick trip to the neighborhood Tesco to get a bottle of wine and some snacks for our apartment.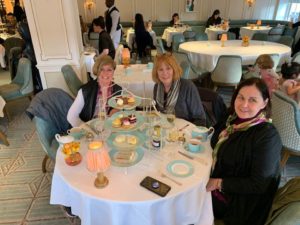 Day 2. No trip to London is complete without a West End theater production. We opted for Tina – premiering here in London. There are lots of options – booked in advance of your trip, buying same day at the half price ticket booth, or going direct to the theater. If you get to the theater early enough, you often get last minute savings. Of course if you want to see the hot shows it's best to book far in advance. But we knew we would get to see a great show with the same day options. And we couldn't have been more thrilled – the story of Tina Turner is dramatic, sad, and ultimately victorious. And there was lots of stand up and dance along music. Tip: when you know you'll be tired and jet lagged, make sure to pick a show that will keep you awake! We spent a good part of the day exploring hidden nooks and medieval alleys of the West End and Covent Garden. We also had time to do a London loop on the hop on hop off bus – this is a great strategy in any big city to get oriented and to ensure you see the top sights. Before the theater, we had time for tapas and wine overlooking the Thames – just 2 blocks from the theater at San Miguel Terrace.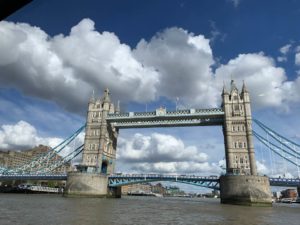 Day 3. With just 4 days to experience this city (friend Kate's first time in London), we packed in another day. We walked a total of 8 miles today – strolling through St. James Park, peeking at Buckingham Palace, past Westminster Abbey, and winding our way down to the Thames to catch a river cruise up to Greenwich. Our hop on hop off ticket included the river cruise – highly recommended. This was an easy way to see the skyline of London and get out of town to the quaint village of Greenwich where we saw the lovingly restored Cutty Sark ship and walked up to the Royal Observatory, home to the Prime Meridien Line. When we returned to London, we made our way to one of my favorite stores in London – Fortnum & Mason – for a traditional high tea and shopping. This is the perfect shop for English souvenirs – beautifully packaged teas and biscuits that won't break the bank. On our way back to Fitzrovia we continued shopping at another of my favorite London stores Marks & Spencer – where we stocked up on socks (this store is well known for high quality yet budget priced undergarments).
Day 4. Today was our day to experience something old and something new. So far, our museum visits were woefully lacking so we made a day of visiting the Tate Modern – one of the world's largest collections of modern art – in a vast space which formerly housed the Bankside Power Station. Situated across the Thames, there is a great observation deck on the upper floors with incredible views of London. Our capacity for appreciating modern art being somewhat limited, we made our way from the Tate Modern across the pedestrian Millenium Bridge to St. Paul's Cathedral – one of Sir Christopher Wren's most beautiful buildings. We finished our shopping along Oxford Street and enjoyed a wonderful dinner right in our neighborhood so we could fall into bed ready for our departure to Southampton the following morning.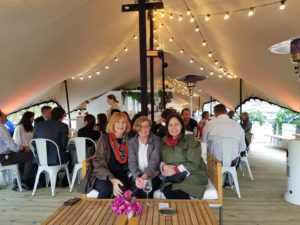 Only have a few days to experience a vast city? My advice – go for it! Work with your travel advisor to book tours, tickets, and a city orientation either by private guide or hop on hop off. Your travel advisor knows the neighborhoods and will match you up to a hotel or apartment in a neighborhood that matches your key interests and desired level of luxury. And since time is of the essence, we'll make sure you get from and to airports and ports in the most efficient manner. We took advantage of the London to Southampton transfer via Stonehenge, tucking in yet another iconic sight en route to our ship.
Contact us today to start planning your dream trip with 4 or 5 days in the city of your choice.